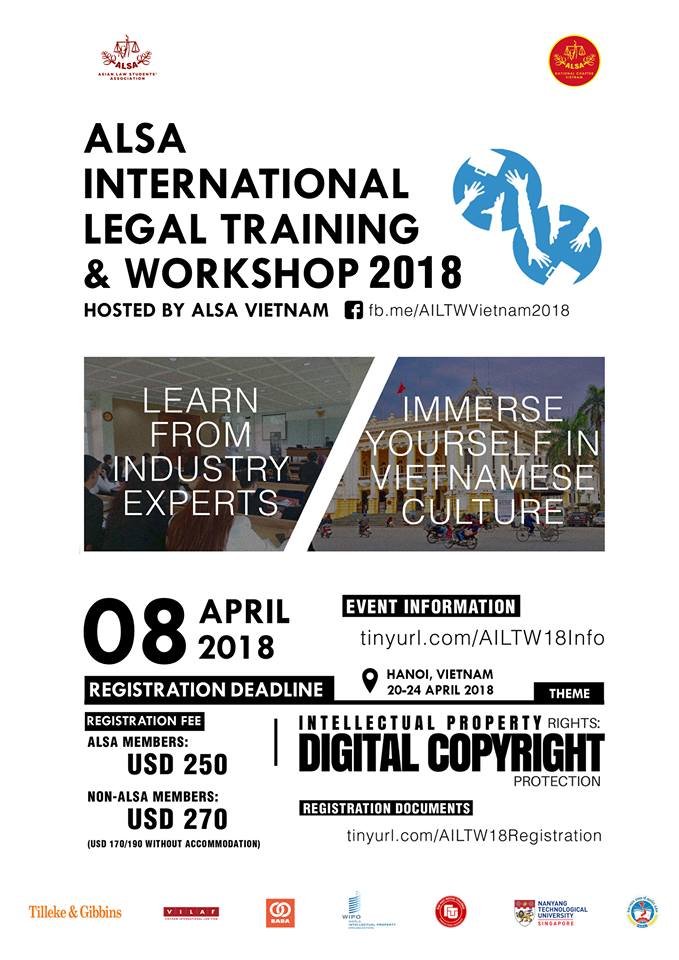 The ALSA International Legal Training and Workshop (AILTW), started in 2014, is one of ALSA International's annual flagship events that aims to equip participants with extensive, practical skills and knowledge on a particular legal topic(s) through training sessions, workshops, symposiums, legal visits and such other activities. The event is also hoped to provide participants with insights into possible career aspirations and networking opportunities with legal experts, practitioners and their fellow future lawyers from all over the region.
This year, AILTW is to be held in Hanoi, Vietnam on 20-24 April 2018 and it will centre around digital copyright. Registration for the event is open now until 8 April 2018. This is a great opportunity for participants to learn from industry experts about contemporary issues concerning intellectual property in the digital age, hone their skills and knowledge in alternative dispute resolution (ADR) as well as sharpen their legal writing abilities. They will also get to explore the antique and dynamic city of Hanoi and immerse themselves in Vietnam's fascinating culture.
Detailed information of the event may be found at tinyurl.com/AILTW18Info and those interested may register at tinyurl.com/AILTW18Registration.
The participation fees are as follows:
– For ALSA members: USD 250 (without accommodation: USD 170)
– For non-ALSA members: USD 270 (without accommodation: USD 190)
Official AILTW Vietnam 2018 Facebook page
Official AILTW Vietnam Instagram page
Further updates will be posted on the above social media, this website and the ALSA International Facebook page